"Avalon's my hometown. Always on my mind."
-Mississippi John Hurt
These words open one of John's most famous songs, and the liner notes of hundreds of reissues, reprints and re-releases of John's music on every format from LP to MP3. In 1963, the music world would come to witness John's miraculous rediscovery based on the now almost mythical story of a young white fan and record collector named Tom Hoskins trekking to the Valley Store in what was Avalon, MS to inquire about an old black songster who just happened to still be living and playing not three mailboxes up the hill.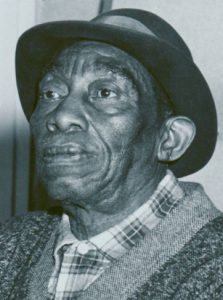 Born John Smith Hurt, in Teoc, Mississippi in 1893, John gravitated towards the guitar at an early age. He recounted his first encounter with the guitar on Pete Seeger's "Rainbow Quest" folk music television program. A man named William Henry Carson, a local guitar player was a frequent guest at John's home. When Carson was asleep, a nine year old John Hurt would sneak to the room where the guitar was kept, and quietly attempt to play pieces from Carson's repertoire, such as Hop Joint, the first song he recalls learning, and a piece he would revisit much later. Eventually, John became good enough that his Mother mistook John's playing for William Carson's. At that point, his mother scraped together a dollar and fifty cents, and bought young John his first guitar, a black guitar of unknown provenance he endearingly called "Black Annie".
As a young man, John labored as a farm hand and railroad worker while playing music locally at informal gatherings including country dances and fish fries. Performing was something he considered a hobby; although he did spend countless hours perfecting his unique finger style approach, John lived a full life, laboring hard in a multitude of capacities. John would plow fields on mule back and even produce hand hewn railroad ties which he sold for a dollar a piece. In addition, John would find time to tend to "chopping" or picking cotton for clients with land in the Avalon area. This type of work was a far cry from the chosen profession of John's brother Hennis, who operated an illegal whiskey still in the Valley area woods. The insular nature of Avalon, in which whites and blacks lived in reasonable proximity to one another despite outside social influences can be read as being an influence on John's demeanor. John was content in his self-contained community and it is perhaps for this reason that John was not inspired to travel and play in a manner befitting the popular image of the itinerant bluesman.
Somehow, John found the time to raise a family. At 18 years old, John Hurt began courting Gertrude Hoskins. In 1916 John had married Gertrude, a short lived marriage that produced T.C, the father of Mary Frances Hurt, the current administrator of the Mississippi John Hurt Foundation and a daughter Ida Mae. Soon thereafter, John and Gertrude split, and John took up with his second wife, Jessie Nelson. John and Jessie would go on to have several children, and remained together until John's passing. The relationship between John and Jessie gives a profound look into the personality of the man. Their playful bickering, documented first-hand by those who knew them, belied a deep commitment to one another. Jessie's goading would inspire John's playing: "You play that thing, John Hurt!"
John periodically played backup guitar for a white Avalon born fiddler named Willie Narmour. Narmour would eventually recommend John to the Okeh talent scouts in 1928, on the merit of his gentle singing voice, thumb picked guitar work with a rock solid alternating bass technique and original songs such as the mostly-based-on-a-true-story murder ballad Louis Collins. John auditioned for Okeh in his home, impressing them enough to record him with the now classic Monday Morning Blues. Okeh quickly whisked John away to Memphis, and then New York to record what would result in twelve released sides, including Spike Driver's Blues and Candy Man. The sides sold moderately well, their greater success stalled by the Depression and a refusal on Okeh's part to market John's music outside of traditional "race record" categorization. John returned to Avalon to await further work from Okeh. The call would never come, and John was relegated once again to seeming obscurity.
If there was any bitterness or disappointment regarding his failed foray into the music business, Hurt never let on. Circa 1935, John appeared on the WPA payroll. He then continued his work in Avalon, and also worked a brief tenure at a factory in Jackson, MS, an hour or so south of Avalon. Upon quitting his factory job, John began working for A.R. Perkins, an Avalon landowner who employed both John and Jessie in a multitude of capacities. At one point during the interim years, John did not even own a guitar, only playing infrequently on borrowed instruments.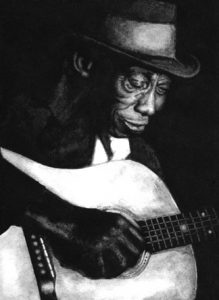 John's redemption came in 1963, when Tom Hoskins made his miraculous "rediscovery". Hoskins had ventured to Avalon armed  only with a tape recorder, his guitar and a not unfounded hunch that Avalon Blues held the clues necessary to find John himself. John recorded Avalon Blues for the Okeh record company in 1928, unknowingly setting the stage for his own triumphant return to the music scene some four decades after he disappeared into seeming obscurity.
Due to the work of Hoskins and a few dedicated fans, Hurt moved to D.C. and found himself the darling of the burgeoning folk music movement that had overtaken colleges and coffeehouses around the nation. There's no telling what it was about John's music that attracted his many fans. His gentle singing voice and complex but clean guitar picking set him apart from some of his harsher sounding Delta contemporaries, but that wasn't the whole story. Many who were lucky enough to see one of his appearances at the Newport Folk Festival, or the Café Lena coffeehouse, or even the Gaslight remarked about his glowing inner spirit, a spirit the transcended simply being a good musician. There was something special about Mississippi John Hurt. While time had taken its toll on bluesmen such as Skip James and Sleepy John Estes in their countenance and in their fingers, John retained his playing style along with a wry, kind smile and a twinkle in his eye that went on to win him legions of fans in his twilight years. Shortly after moving back to Mississippi, John passed away quietly on November 2, 1966.